OEM Alternative Fairchild Corporate Jet Brake Parts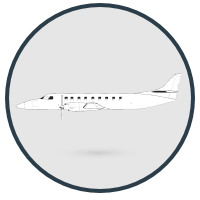 Rapco Fleet Support aircraft brake manufacturers offer PMA – FAA approved brake parts for Fairchild private aircraft: pads, discs, pistons, springs, assemblies, kits and much more.
Fairchild Commuter Aircraft Models
Please contact us for more details on available Fairchild brake overhaul kits and PMA components available for order.
Fairchild Metro/Merlin: RFS-1587K Hot-Pac Kit Contents
QTY
RFS Part No.
BFG Part No.
Part Description
6
RFS207-9
342-89
Wear Pad
View Part
1
RFS1587
244-528
Rotating Disc
View Part
You may purchase Hot-Pac Kit component parts individually.
Rapco Fleet Support Distributors
If you have questions about our FAA-PMA products or services, contact us using the link below or call us at (262) 367-6210.
Contact Rapco Fleet Support for more information on Fairchild PMA aircraft brakes.