FAA PMA Approved Brake Parts for Fairchild Metro Private Airplane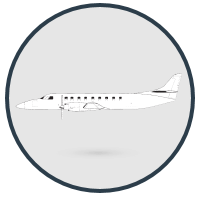 The Fairchild Metro series airliner is a highly versatile small commuter class aircraft. Besides use for corporate travel, these aircraft ferry tourists, law enforcement officers and even packages all across the globe. The Metro series airliner was first produced by Swearingen Aircraft Corporation in Cedar City, Utah and later produced by Fairchild in San Antonio, Texas.
Rapco Fleet Support brake parts are put through the exhaustive PMA process to ensure compliance with strict FAA standards. The FAA puts their stamp of approval on all of our brake parts - guaranteeing a safer brake part for the Fairchild Metro aircraft.
Brake Overhaul Kits for the Fairchild Metro Commuter Aircraft
Rapco Fleet Support offers FAA-PMA approved brake overhaul kits to fit a wide range of Fairchild commuter aircraft. Refer to the chart below for specific part numbers.
Rapco Fleet Support, Inc. to Goodrich Part Number cross-reference: