Dassault Falcon 20 FAA/PMA Approved Brake Parts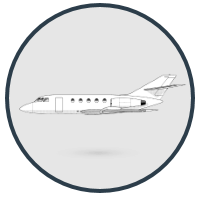 The Dassault Falcon 20 corporate airliner was the first in a series of business jets built by the French aviation firm Dassault. The predecessor to the Falcon 20, the Dassault-Berguet Mystere 20, made its maiden flight in 1964. Widely used as a business jet throughout the 1960's, '70's and '80s, the Falcon 20 was retired from production in 1988, although many of these jets still remain in service worldwide.
Brake Overhaul Kits for the Falcon 20
Rapco Fleet Support offers FAA-PMA approved brake overhaul kits to fit Falcon 20 models originally equipped with Goodyear/ABSC brake assembly 9550504.
Rapco Fleet Support Distributors
If you have questions about our FAA-PMA products or services, contact us using the link below or call us at (262) 367-6210.