FAA/PMA Approved Brake Parts for General Aviation & Trainer Aircraft
The cost of repairs, maintenance, and replacement parts for privately owned, G.A., and trainer aircraft can be too expensive for hobbyist pilots and flight schools. Hangar space and maintenance are the most expensive parts of owning an aircraft. Sticking with OEM replacement parts only drives up the price.
PMA approved aircraft brake parts from Rapco Fleet Support offer you up to 40% savings on replacement brake parts.
Why choose PMA brake parts for your trainer aircraft?
Reliable?
More rigorously tested?
Real world testing?
Most affordable?
OEM


PMA




Replacement Brake Parts for Common General Aviation Planes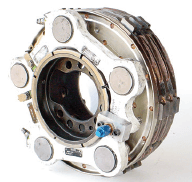 PMA brake parts manufactured by Rapco Fleet Support mean greater quality for a lower price.
Rapco Fleet Support manufactures and engineers FAA/PMA approved brake parts for the following models of general aviation and trainer aircraft:
Serious Aircraft Brake Components. Serious Savings.
PMA Aircraft Parts: Compensating for "The Student Pilot Effect"
Saving Flight Schools Money, Improving Profitability
Student pilots are notorious for riding the brakes, making the hardest landings, and causing more general wear-and-tear than any other pilots. Combine this added stress with the immense amount of flight hours trainer aircraft get, and the cost of maintenance and repair goes way up. Being able to save money on replacement parts can be the difference between a flight school succeeding or not - or a hobbyist being able to afford their favorite pastime.
PMA Approval Process Ensures the Safest Performance
OEM's have attacked and attempted to delegitimize independent manufacturers of aftermarket aviation parts and the PMA process for years. They claim you cannot trust replacement parts that aren't sourced from the original manufacturer of the plane. Time and time again, this has been disproven and the FAA is in full support of PMA manufacturers. The PMA process is just as strict as the process validating the OEM parts themselves. The FAA has approved qualified PMA parts designed and manufactured under the watchful eye of multiple regulatory agencies.
Rapco Fleet Support provides high-quality FAA/PMA approved brake parts for distributors of aviation parts. We manufacture high-performance, reliable, and rigorously tested brake parts for general aviation & trainer aircraft - all for a much more affordable price.
Rapco Fleet Support Distributors