FAA PMA Approved Brake Parts for Fairchild Merlin Airliners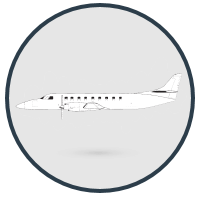 Besides use for corporate travel, Fairchild Merlin aircraft ferry tourists, law enforcement officers and even small shipments all around the world. The Merlin series airliner was first produced by Swearingen Aircraft Corporation in Cedar City, Utah and later produced by Fairchild in San Antonio, Texas.
The days of an OEM monopoly on replacement brake parts are long gone. Rapco Fleet Support offers a safer, more affordable alternative. PMA approved aftermarket brake parts are manufactured under the critical eye of the FAA, guaranteeing a safer part.
Brake Overhaul Kits for Fairchild Merlin Commuter Aircraft
Rapco Fleet Support offers FAA-PMA approved brake overhaul kits to fit a wide range of Fairchild commuter aircraft. Refer to the chart below for specific part numbers.
Rapco Fleet Support, Inc. to Goodrich Part Number cross-reference: