Fairchild SA227 FAA/PMA Approved Replacement Brake Components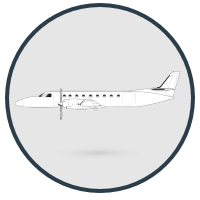 First produced by Swearingen Aircraft and later by Fairchild at their San Antonio, Texas facility, the SA 227 was the evolution of Ed Swearingen's hybrid SA26 Merlin. With upgraded engines, increased wing span and numerous airframe modification, the SA 227 commuter airplane saw numerous improvements since initial certification in 1980. Used primarily by regional airlines and freight operators, these 19 seat turboprops are extremely durable and have a very strong airframe.
Brake Overhaul Kits for Fairchild SA227 Heavy Metro
Rapco Fleet Support offers FAA-PMA approved brake overhaul kits to fit Fairchild SA227 Heavy Metros equipped with ABSC brake assembly series 5011640.
Rapco Fleet Support, Inc. to Goodyear / ABS Part Number cross-reference: