Hawker 900 Private Jetliner Brake Parts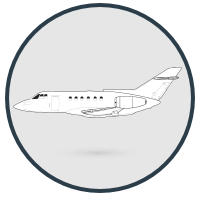 Developed by British Aerospace and assembled by Hawker Beechcraft, the mid-sized Hawker 900 series airplane offers spacious cabins, excellent speed and ranges up to 3,200 miles. The Hawker 900 is an excellent choice for corporate use as well as charter flights.
Make your Hawker 900 corporate airliner safer and less of a burden on your pocketbook. PMA approved brake parts offer greater performance and safety at a lower price.
Brake Overhaul Kits for the Hawker 900
Rapco Fleet Support offers FAA-PMA approved brake overhaul kits to fit Hawker 900 aircraft equipped with Dunlop brake assembly AHA1897.
Rapco Fleet Support, Inc. to Dunlop Part Number cross-reference: