Beechcraft Replacement Aviation Brake Parts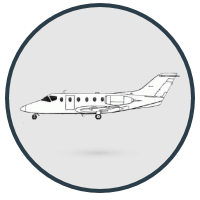 Just a year after announcing the production of the Beechjet 400 corporate jet in 1988, the company released the 400A. The improvements included a greater max landing weight, more fuel storage, greater cabin volume and better soundproofing. After being acquired by Raytheon Aircraft, Beechjet jets were renamed as Hawker. Although they are no longer in production today, many Beechjet 400A aircraft remain in service.
Brake Overhaul Kits for the Beechcraft 400A
Rapco Fleet Support offers FAA-PMA approved brake overhaul kits to fit Beechjet 400A models originally equipped with MABS 5010614 brakes.