Travel at Ease—Choose FAA-PMA Approved Brake Parts from Rapco Fleet Support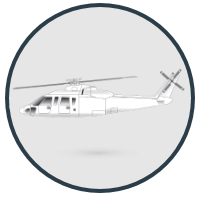 The Sikorsky S-76 commercial helicopter was originally designed for the rigors of offshore oil & gas transportation in 1977. Since then it has evolved to become a staple corporate aircraft for search and rescue, VIP/executive transport and utility work.
As of March 2017, the Sikorsky S-76 eclipsed 7 million total fleet hours. Heads of State and corporate VIP's trust the S76 for safe and reliable transportation around the world.
PMA approved aircraft brake parts are meticulously engineered and flight tested to ensure compliance with strict FAA standards. Rapco Fleet Support manufactures better brake parts — at better prices.
Brake Overhaul Kit for the Sikorsky S-76
Rapco Fleet Support offers FAA-PMA approved brake overhaul kit to fit the Sikorsky S-76 private helicopter equipped with Cleveland/Parker Hannifin brake assembly 30-242.
Rapco Fleet Support, Inc. to Cleveland/Parker Hannifin part number cross-reference:
RFS-242K Hot-Pac Kit Contents
QTY
RFS Part No.
Cleveland P/N
Part Description
1
RFS159-07100
159-07100
Rotating Disk
View Part
16
RFS109-02800
109-02800
Wear Pad
View Part
36
RFS105-06700
105-06700
Rivet
View Part
9
RFS101-61900
101-61900
Oring
View Part
1
RFS101-60100
101-60100
Oring
View Part
You may purchase Hot-Pac Kit component parts individually.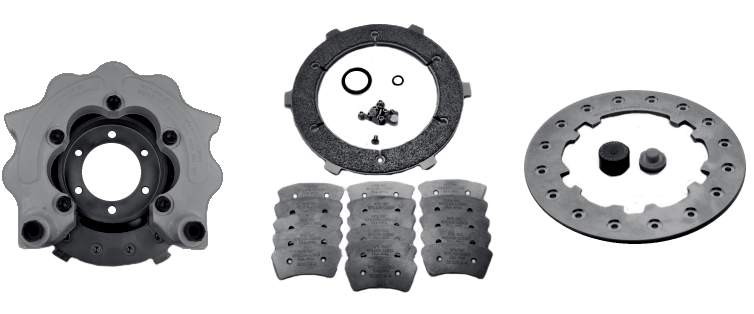 More Sikorsky S-76 Brake Parts
RFS Part No.
Cleveland P/N
Part Description
RFS062-10800
062-10800
Piston
View Part
RFS088-03500
088-03500
Insulator
View Part
RFS073-09800
073-09800
Pressure Plate Sub-Assembly
View Part
RFS063-08200
063-08200
Pressure Plate
View Part
Rapco Fleet Support Distributors
If you have questions about our FAA-PMA products or services, contact us using the link below or call us at (262) 367-6210.
Contact Rapco Fleet Support for more information on Sikorsky S76 Helicopter PMA brakes.