Sabreliner PMA Brake Parts – A Seriously Better Brake
Rapco Fleet Support aircraft brake manufacturers offer PMA – FAA approved brake parts for Sabreliner private corporate jets: pads, discs, rivets, pressure plates, assemblies and much more.
Sabreliner Corporate Aircraft Models
Please contact us for more details on available Sabreliner brake overhaul kits and PMA components available for order.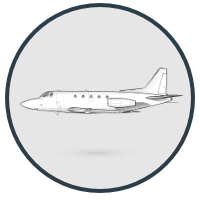 Become a Distributor of Sabreliner Corporate Jet Brake Components
Interested in learning about the opportunity to become a RFS brake part distributor?
*Note: the RFS1055 rotating disc is NOT approved for the Sabreliner 65.