King Air 200/300/350 PMA Approved Brake Parts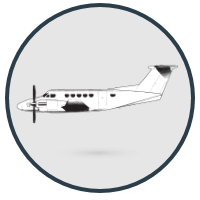 Produced by Beechcraft, the Super King Air 200/300/350 Series turboprop has been in production since 1974—the longest run of any civilian turboprop in its class. An evolution of their 1969 Model 101, the 200 has been repeatedly updated and up-powered over the years. Although primarily known as a business turboprop, it has also seen duty in the Army, Air Force, Navy and Marine Corps.
Brake Overhaul Kits for King Air 200/300/350—High Flotation and Standard
Rapco Fleet Support offers FAA-PMA approved brake kits to fit Beechcraft 200 Series corporate aircraft equipped with high flotation ABSC brake assembly 5002256 (Beech part #101-8002-3) or the Beechcraft King Air 200/300/350 equipped with BFG P.N. 2-1576 brake assemblies (Beech P.N.'s 101-8001-9, 101-380096-1 or 101-8001-91).
High Flotation
Rapco Fleet Support, Inc. to Goodyear / ABS Part Number cross-reference:
Standard
Rapco Fleet Support, Inc. to Goodyear / ABS Part Number cross-reference: