Beech B1900C & B1900D Replacement Aircraft Brake Parts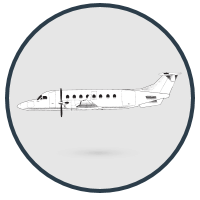 Derived from the Beechcraft King Air 200, the Beech 1900C and 1900D are 19 seat commuter aircraft with more powerful engines and longer fuselage allowing for more passengers. Regional airlines across the world use these aircraft to ferry passengers from small airports to larger hub airports.
Brake Overhaul Kits for Beech B1900 Commuter Aircraft
Rapco Fleet Support offers FAA-PMA approved brake overhaul kits for use in the Beech B1900C and B1900D corporate airplanes. Refer to the chart below for specific part numbers and descriptions.
Rapco Fleet Support, Inc. to Goodyear / ABS Part Number cross-reference:
Landing Gear for the Beech B1900C and B1900D
We also offer FAA/PMA approved landing gear parts for the Beechcraft B1900, including bushings, pins, bolts and the main landing gear axle. Consult the chart below for a list of parts and their corresponding part numbers.
| Part Number | Description |
| --- | --- |
| RFS100-820017-1 | Bushing |
| RFS101-810024-3 | Bushing |
| RFS101-810026-1 | Pin |
| RFS101-810090-3 | Bolt |
| RFS105739X-YN1437 | Bushing |
| RFS105739X-YR0875 | Bushing |
| RFS105740X-YA0630 | Bushing |
| RFS105740X-YA1625 | Bushing |
| RFS105740X-YN0625 | Bushing |
| RFS105740X-YN0677 | Bushing |
| RFS114-810022-1 | Axle |
| RFS114-810038-1 | Bushing |
| RFS114-810042-1 | Bushing |
| RFS114-820062-1 | Bushing |
| RFS114-820068-1 | Pin |
| RFS114-820112-1 | Bushing |
| RFS114-820113-1 | Bushing |
| RFS115-810066-3 | Bushing |
| RFS50-810035-2 | Pin |
| RFS50-810035-4 | Pin |
| RFS90-820010-1 | Bushing |
| RFS99-810066-1 | Bushing |