Cessna Citation FAA/PMA Approved Brake Parts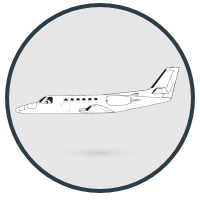 In 1971, the Cessna Citation 500 was one of the first corporate jets powered by turbofan engines. In 1978, its successor, the Citation 550 (AKA the Citation II) increased the overall size of the jet and added more powerful engines. Production of the 500 ended in 1985, while an updated version of the 550, the Citation Bravo, ended production in 2006.
PMA approved brake parts offer a serious performance and safety upgrade to OEM components. Step up to the next level.
Brake Overhaul Kits for the Cessna Citation 550
Rapco Fleet Support offers FAA-PMA approved brake overhaul kits to fit the Cessna Citation model 550 aircraft equipped with ABSC brake assemblies 5001445 or 5001446 series.