Sabreliner 60 FAA/PMA Approved Brake Parts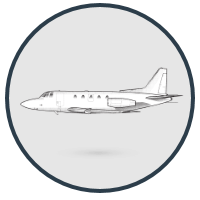 This corporate jet was originally developed by North American Aviation in 1956 for civilian and military use. Production began in 1963 with the NA265-40, which was followed by the Series 40 and the Series 60 (a longer version). Although production of Sabreliners ended in 1981, there are still many still in service.
Get a safer brake part. OEM brake parts cannot compete with vigorously tested PMA approved brake parts from Rapco Fleet Support. You get modern engineered brake parts - for a better price.
Brake Overhaul Kits for the Sabreliner 60
Rapco Fleet Support offers FAA-PMA approved brake overhaul kits to fit Sabreliner 60 models originally equipped with Goodyear/ABSC brake assembly 9550338 series.
Rapco Fleet Support, Inc. to Goodyear / ABS Part Number cross-reference: