Sabreliner 40 PMA Approved Aftermarket Brake Parts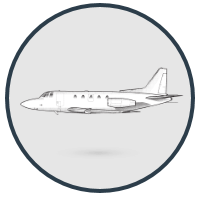 This corporate jet was originally developed by North American Aviation in 1956 for civilian and military use. Production began in 1963 with the NA265-40, which was followed by the Series 40 and the Series 60 (a longer version). Although production of Sabreliners ended in 1981, there are still many still in service.
You aren't stuck with dated OEM parts. FAA approved brake parts from Rapco Fleet Support offer a more cost efficient and safer alternative. The PMA approval process puts every one of our manufactured parts through vigorous testing to ensure strict compliance with modern safety standards.
Brake Overhaul Kits for the Sabreliner 40
Rapco Fleet Support offers FAA-PMA approved brake overhaul kits to fit Sabreliner 40 models originally equipped with Goodyear/ABSC brake assembly 9550338 series.
Rapco Fleet Support, Inc. to Goodyear / ABS Part Number cross-reference: