Learjet 31 FAA/PMA Approved Brake Components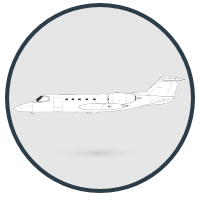 Conceived by visionary aviation icon Bill Lear as a moderately priced small jet for business travel, the Learjet 31 first took to the sky in 1963. Initial testing showed it to be a nimble and astoundingly fast aircraft. The company soldiered on through adversity and FAA certification, but in 1967 Lear ended up selling controlling interest to the Gates Rubber Company and the name was changed to Gates Learjet. Later, Canadian manufacturer Bombardier bought the struggling company and put Learjet back on track. Today, the name Learjet is virtually synonymous with corporate jet aircraft.
PMA approved private aircraft brake parts offer end users tremendous gains in safety and performance - with a nice reduction in cost. The PMA process ensures every RFS brake component is manufactured to the strictest FAA safety standards.
Brake Overhaul Kits for Learjet 31 Corporate Aircraft
Rapco Fleet Support offers FAA-PMA approved brake kits to fit Learjet 31 model aircraft equipped with Goodyear ABSC brake assemblies 5003096-4 & 5003096-6.
Rapco Fleet Support, Inc. to Goodyear / ABS Part Number cross-reference: