PMA Approved Brake Components for the King Air B99 Commuter Aircraft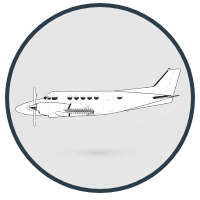 The King Air B99 aircraft is one of the most versatile small commuter class airliners made. Besides use for corporate travel, these aircraft ferry tourists, law enforcement officers and even packages all across the globe.
Choose PMA approved aircraft parts to make a serious upgrade over OEM parts. The PMA process puts all of our brake parts through vigorous testing to ensure adherence to FAA safety standards.
Brake Overhaul Kits for King Air B99 Commuter Aircraft
Rapco Fleet Support offers FAA-PMA approved brake overhaul kits to fit a wide range of King Air commuter aircraft. Refer to the chart below for specific part numbers.
Rapco Fleet Support, Inc. to Goodyear / ABS Part Number cross-reference: