PMA Approved Brake Parts for Versatile Commuter Aircraft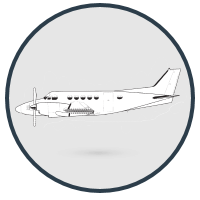 The King Air 100 airliner is one of the most versatile small commuter class aircraft manufactured. Besides use for corporate travel, these aircraft ferry tourists, law enforcement officers and even packages all across the globe.
Aircraft brake parts manufactured by Rapco Fleet Support provide an excellent alternative to standard OEM replacement parts. The rigorous PMA process ensures every brake part we manufacture adheres to the strictest FAA safety standards.
Brake Overhaul Kits for King Air 100 Commuter Aircraft
Rapco Fleet Support offers FAA-PMA approved brake overhaul kits to fit a wide range of King Air commuter aircraft. Refer to the chart below for specific part numbers.
Rapco Fleet Support, Inc. to Goodyear / ABS Part Number cross-reference: